If you want to install decorative concrete floors that attract a lot of attention and serve as calling cards for your business, there's no better market to go after than the upscale floors in high-profile reception areas, offices, salons and retail buildings. These highly visible floors can be especially lucrative for decorative concrete contractors since the buzz they generate often leads to new work. However, these projects also come with a slew of challenges, from overcoming client concerns about the viability of concrete floors in high-traffic environments to meeting stringent expectations for floor color, composition and performance.
So what does it take to achieve success in this demanding field of decorative concrete work? The Concrete Network asked three concrete contractors about their firsthand experiences installing high-profile floors: Don Pinger of Custom Concrete Solutions, West Hartford, Conn.; Gil Koury of Life Deck Coating Installations, San Diego, Calif.; and Chris Becker of Becker Architectural Concrete, St. Paul, Minn. Here's a summary of what they've learned along the way and their advice to other contractors considering this line of work.
Landing the project
While decorative concrete floors are becoming more and more commonplace in commercial and retail facilities, they can still be a hard sell to clients who haven't seen how beautiful these floors can be or have doubts about their long-term durability. So how do you convince the skeptics about the attributes of concrete flooring? Displaying your work in a showroom, marketing on the web and customer referrals are several strategies our experts recommend for landing high-profile jobs.
"I get many of my jobs from people seeing my website. I have a very aggressive ad campaign that includes a few different concrete-related sites, like The Concrete Network. I also have a newly expanded showroom that displays the many different decorative concrete applications we offer. My biggest selling point is now my showroom. Ever since I opened the expanded showroom, I close probably 75% of the jobs that come in," says Pinger, whose company specializes in decorative concrete polishing and resurfacing.
Becker has also been successful using his showroom to land jobs. "The vast majority of these kinds of projects come through interior designers that have an initial concept for their client's project. We have the best success when we have the opportunity to meet with the client at our showroom, and wow them with our sensibility with the materials and show them our digital portfolio. This usually gets them excited about the possibilities," he says.
Koury takes a different approach and attracts customers by maintaining a large presence in the commercial and retail market and building confidence among his clients by being knowledgeable and flexible. "Most of our jobs come from referrals. We are celebrating 30 years in business, so customers know we are a reputable, stable company that will follow through and do great work," he says. Convincing people about the attributes of decorative concrete isn't much of a problem for him since most of his clients are already familiar with this type of flooring. "The popularity of decorative concrete floors continues to grow. Many people have experienced the look and feel of concrete floors in commercial applications, such as restaurants, but now more exposure in magazines, retail spaces and residences have made this option more common and desirable," Koury says.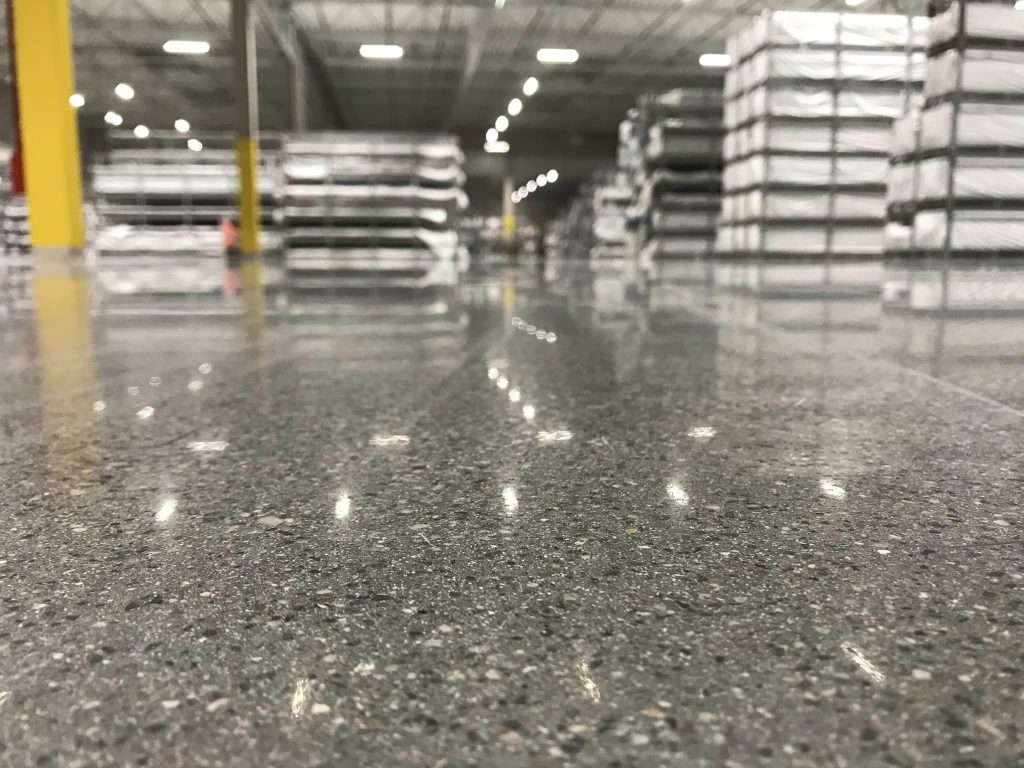 Ideas for Concrete Flooring in Retail Shops
Time: 01:46
Video on how concrete floors are often used in retail shops because of their durability and design flexibility.
Coming up with a design scheme
In most cases, the design of the floor is a collaborative effort involving the building owner, architect and concrete contractor. But on some projects, the client needs more guidance and will rely on the concrete contractor's experience and creative ability to come up with the best design scheme. In either case, the concrete contractor is expected to play a role in the design and color selection, rather than just being the decorative flooring installer.
"It starts with our creative process, asking questions about the client's business, the designer's goal for the space and, most importantly, the budget, and then creating a concept and samples that exceed their expectations without destroying the budget," says Becker, who does everything from interior flooring to architectural paving, bars and countertops, sinks, and even concrete furniture. "We have a solid reputation as a design/build firm, more so than a company that strictly provides installations, so for both owners and designers, they have an expectation that they are talking to us for our input on not only products and installation systems, but also layout, color and composition."
In Pinger's case, the final design is usually a collaborative effort, even if the customer doesn't think so. "What I mean by that is I use what the overall design of the room or rooms will be to fine-tune the colors and dyes we use. Rarely does a customer give me complete freedom to do whatever I want," he says.
Koury, whose specialty is concrete coating design and installation, also takes the collaborative approach much of the time. "I take the client's wants and needs and balance them with my suggestions and experience to come up with a great flooring system for them," he says.