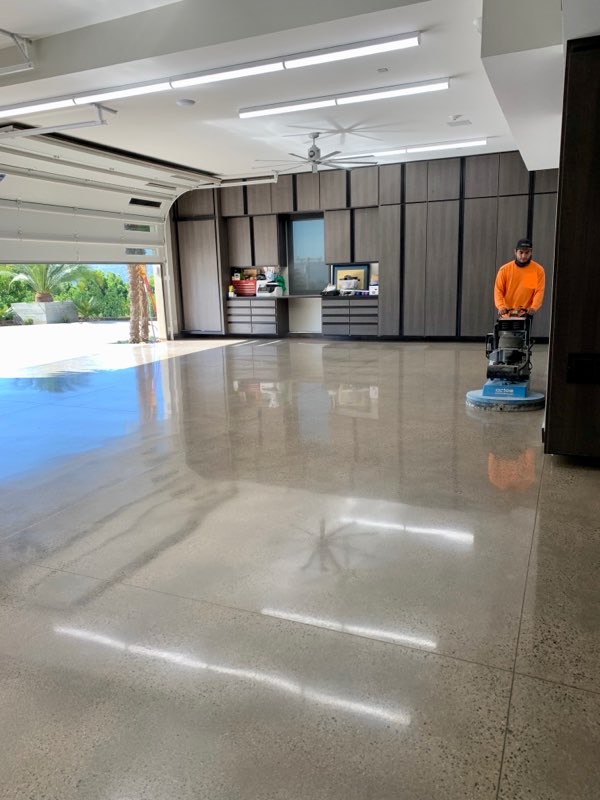 Polished concrete is an increasingly popular flooring option for homeowners and commercial spaces in Los Angeles. This durable material offers a range of benefits that make it a cost-effective and long-lasting choice. This blog post will explore the top five benefits of using polished concrete for your flooring needs. From its low maintenance requirements to its versatility and stylish appearance, you'll see why this material quickly becomes a go-to choice for those looking for a practical and stylish flooring solution. 
Durability and Longevity –  
When considering flooring options, durability and longevity are important factors to consider. Polish concrete stands out in this regard, as it is known for its long-lasting durability and resistance to wear and tear. Unlike traditional concrete, polish concrete has a higher level of density, making it more resistant to heavy foot traffic, spills, and other common household or commercial activities. Additionally, polished concrete does not require frequent sealing or resealing, making it a cost-effective option in the long run. With proper care and maintenance, polished concrete can last for many years, making it an ideal choice for both homeowners and commercial spaces. Whether you're looking to improve the look and feel of your home or create a professional and functional environment in your commercial space, polished concrete is a great choice for durability and longevity.
low-maintenance –
Polish concrete is an ideal flooring option for those who are looking for a low-maintenance material. Unlike other flooring options, such as carpet or hardwood, polished concrete requires very little upkeep and can maintain its original appearance for many years. With just regular sweeping and damp mopping, you can keep your polished concrete floors looking great without the need for intensive cleaning. This is especially beneficial for busy homeowners who don't have time for complex cleaning routines, or for commercial spaces that need to keep up with high foot traffic. Its resistance to spills and stains also ensures that your floors will look great for years to come, without the need for frequent cleaning. Overall, the ease of maintenance makes polish concrete a convenient and practical choice for anyone looking to simplify their cleaning routine.
Versatility –
When it comes to flooring options, versatility is an important factor to consider. Polish concrete offers a range of design options, making it suitable for a variety of styles and aesthetics. From simple, minimalist designs to elaborate, intricate patterns, polished concrete can be customized to match the specific look and feel of your home or commercial space. Additionally, polished concrete can be stained in a variety of colors, or tinted to match the existing decor. Its versatility also extends to its ability to be used in a variety of areas, including living rooms, kitchens, bathrooms, and more. Whether you're looking to create a modern, minimalist look or a traditional, classic feel, polish concrete offers the versatility to achieve your desired style.
Stylish Appearance
Polish concrete offers more than just functionality and durability, it also boasts a stylish appearance. The smooth, glossy finish of polished concrete can add a touch of sophistication to any space, making it an ideal choice for homeowners and commercial spaces looking to elevate their flooring. With the ability to customize the color and design of the concrete, it can complement any existing decor, or serve as a statement piece in and of itself. The sleek, modern look of polished concrete can transform a space, making it feel more polished and put together. So, whether you're looking to add a touch of sophistication to your home or create a stylish, professional atmosphere in your commercial space, polished concrete offers the perfect blend of style and functionality.
Cost-Effectiveness

Upgrading flooring can be a concern for those on a budget. However, polished concrete offers an economical solution that combines durability, style, and versatility. Unlike pricier flooring options like tile or marble, concrete is a cost-effective alternative that can be customized to fit the look and feel of your home or commercial space. Furthermore, concrete's long-lasting properties mean it requires minimal maintenance and replacement, making it an economical choice in the long run. For homeowners or business owners seeking to upgrade their flooring, polish concrete is a cost-effective solution that delivers on both style and functionality.
In conclusion, if you're searching for a flooring solution that checks all the boxes, look no further than polish concrete. With its unmatched combination of durability, low maintenance, versatility, stylish appearance, and cost-effectiveness, it's no wonder that more and more homeowners and commercial spaces are making the switch to this amazing flooring option.
Our blog post has showcased why polish concrete is the smart choice for those who demand the best flooring. From its breathtaking appearance to its low-maintenance design, polished concrete offers a world of benefits that no other flooring option can match. Don't miss out on the chance to upgrade your space and enjoy the peace of mind that comes with a truly exceptional flooring solution. Get in touch with a professional flooring contractor today and discover the many benefits of polishing concrete for yourself!
schedule a free estimate to-day!
Looking for a professional concrete job? Our team is here to help you out! We offer free estimates, so there's no guessing how much your project will cost. Whether commercial or residential work, we can ensure the job gets done right. Got questions? Give us a call at (323) 329-7068 , send an email to [email protected] , or submit our contact form online – whatever works best for you! Let's get in touch and start today!